Terminology Tools
Terminology Browsers and Tools
Definitions for UKTC Products on TRUD
1. Status=Technology Preview
2. Status=Draft for Trial Use
3. Status=Supported Product
4. Status=Legacy Product
5. Status=Deprecated
6. Status=Withdrawn
All the above statuses are all explained in detail in this document https://hscic.kahootz.com/gf2.ti/f/762498/27839045.1/PDF/-/UKTC_Product_Development_Lifecycle_v3.pdf
Items in this category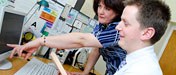 NHS Read Browser
Important Notice - The last scheduled release of Read v2 and CTV3 was April 2018. Basic maintenance support will be provided until April 2020. Information on the withdrawal of Read v2 and CTV3 can be found here
UK READ codes release data (all versions) in browsable form. This includes English and Scottish variations of the Tri set browser.
Status: Deprecated
---

dm+d XML Transformation Tool
This application can be used to read the NHS Dictionary of Medicines and Devices weekly release (NHSBSA dm+d) XML files and convert the content into both Microsoft Excel spreadsheets and CSV (comma separated value) files. The tool has a number of dependencies:
Runs on Microsoft Windows only (Fully tested on Windows 7)
Runs from the C drive of the computer which may require local administrator permission
Requires Microsoft Excel (Fully tested with Excel 2010)
Uses a Microsoft Excel Macro enabled spreadsheet
The NHSBSA dm+d release is not included with the tool and must be downloaded separately.
---
SNOMED CT UK Data Migration Workbench
This sub-pack contains the SNOMED CT UK Data Migration Workbench application, which includes its database files pre-loaded with the latest versions of SNOMED CT, CTV3, READ, OPCS-4, ICD-10 and the crossmaps between them. Also included are installation and user guides and a ReadMe.txt file. It is important you read the ReadMe.txt file BEFORE you begin to install this application.
Access a WebEx demonstration on how to use the Clinical Data analytics functionality within the data migration workbench.
Changes have been made to this products release schedule during 2019. More information can be found on Delen .
For SNOMED CT UK Data Migration Workbench Training Materials please go here.
Status: In Development
---