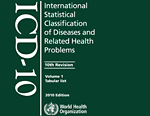 ICD-10 eVersion Book
This pack contains the ICD-10 5th Edition eVersion book, which is an electronic copy of ICD-10 5th Edition for adding to the eViewer application.
Before downloading this pack, ensure that you have installed the latest eViewer (eVersion) Application (Version 1.4.3).
Instructions on adding the eVersion Book into the eViewer can be found within the Installation guide within the eViewer Application pack.
Please note that following implementation of the ICD-10 5th Edition on 1 April 2016 a number of errors were discovered in the printed ICD-10 5th Edition volumes published by the World Health Organisation (WHO). A number of these errors are replicated in the ICD-10 5th Edition eVersion.
For users of the eVersion we have produced a set of shared errata notes which can be imported into the eVersion.
The notes are produced in XML format and are available, including instructions on how to import them into the eVersion, from Delen.