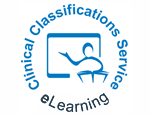 ICD-10 4 Step e-Learning Module
This e-learning module is designed to be used as a revision aid before sitting the National Clinical Coding Qualification (UK) examination and for clinical coders who wish to refresh their memory about the four step coding process. At the end of the module you will have the opportunity to test your understanding of the four step coding process.
Note:
This TRUD release has now been migrated to the
NHS North West & NHS Yorkshire and the Humber eLearning website
, where an up to date version can be found.