SNOMED CT Education and Training Resources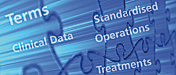 SNOMED CT Recorded Webinar - An Introduction to the release files in Release Format 2 (Technical)
This presentation is aimed at developers and technical implementers. It assumes a basic understanding of SNOMED CT. This webinar gives an overview of the different SNOMED CT UK extensions, walks you through the release files and the different release packs, looks at the content of the Release Format 2 files and highlight aspects of the file specifications, finally it illustrates how you might process these with some SQL scripts.
---
Licences applicable to this item
Open Government Licence for TRUD
You must accept this licence when you subscribe to this item.
---
The data and products on this site may be re-used under the terms and conditions of the Open Government Licence. Please be considerate of the following when using any of the data and products herein:
You will need to register (for free) on this site if you want to use the content.
You are free to use the data and products published on this site
You should inform us immediately should you find any errors in the data or products so we can rectify such issues as quickly as possible.
We recommend that you keep a log of how and where you use the data and products to better prepare you for as and when new or updated data and products are published